Airsoft is a widely popular sport today, and airsoft revolvers are vastly becoming one of the weapons of choice in this game.
The thrill of teaming up with your team and going on a mission to take out another group using a replica revolver is something to experience.
It gives you the sense of realism and authenticity that you really want when going into a game.
But which one is the right one for you? well you're in luck. We have bought, tested and reviewed some of the best that are available today, and what a list it is.
Although there are many airsoft guns available, many players prefer to use revolvers.

One of the reasons why these revolvers are picking up the pace among players is they are small and easy to handle.
While guns may contain more BBs, but they are also difficult to load once you run out of ammo.
But even with cheap revolvers, you can change the magazine in a flash.
Moreover, they are lightweight, allowing you to maneuver into a small space to hide from your opponents and gain a significant positional advantage.
Also, there are lots of varieties of revolvers to choose from that have different features and functions that can you win the game.
If you are planning to buy an airsoft revolver, here are some of the top models that we have reviewed that you should keep in mind, so lets get into it.
Below is our quick list of the ones we think are the the cream of the crop.
The 9 Best Airsoft Revolvers On The Market
Crosman Vigilante CO2 Caliber .177 Pellet & BB Revolver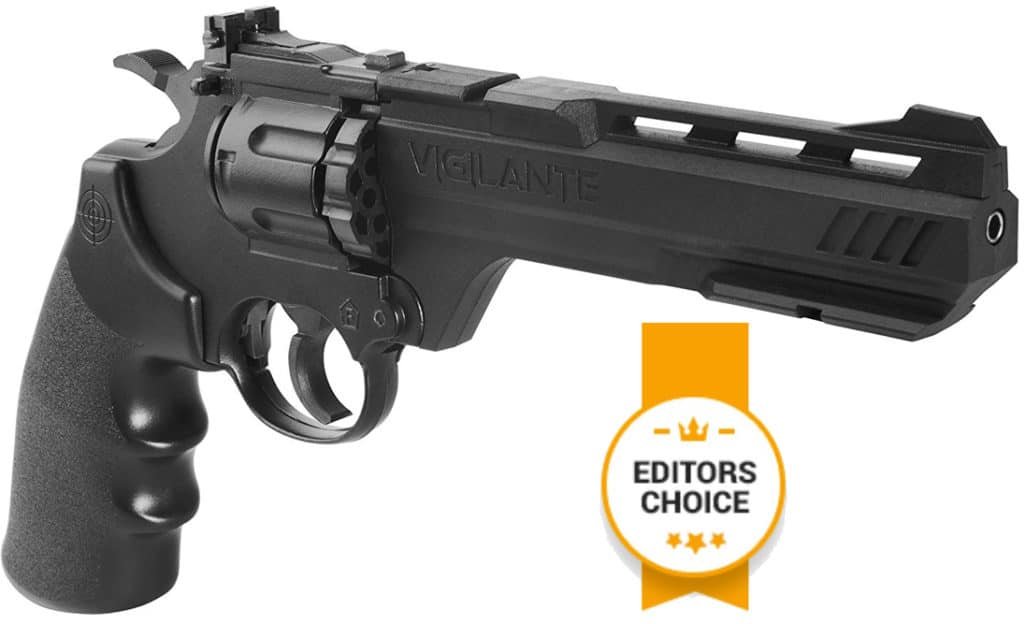 If you are fond of old school revolvers, the Crosman Vigilante CO2 Caliber .177 Pellet & BB Revolver will take you back in time.
It is a revamped version of the classic pistols that existed decades ago.
But, it comes with several modifications making it suitable for airsoft.
Although this is CO2-powered, you don't get a can along with the package.
You will also need to purchase the BBs separately.
Apart from that, this is a total beast
The 6-shot BB clip is enough to keep your ammo intact so that you can shoot your opponent at sight.
Its mere speed is what sets this rifle apart.
With a velocity of 435 fps and 6-inch rifled steel barrel, it gives you the power to find your opponent and defeat them no matter how powerful their guns are.
The adjustable rear sight, tactical rail system, and metal frame provide the most accurate aim, which is crucial when going into a match with only a hand held weapon.
This beauty has the power of a rifle can the simplicity and beauty that makes it one of the best products on the market. The design is solid, its easy to reload, has a huge fps and just looks and handles like a dream. If you need an advantage in a beautiful package, this is it.
If you are not using BBs, you can make the most of the 10-shot pellet clip that holds enough ammo to outlast your opponent.
Those who are purchasing a revolver for the first time can start with this model.
It is lightweight and allows you to get a feel of the setup at a very affordable price.
This is honestly one of the best revolvers out there today and always has a place in my load out, I never start a match without it.
Black Ops Airsoft Revolver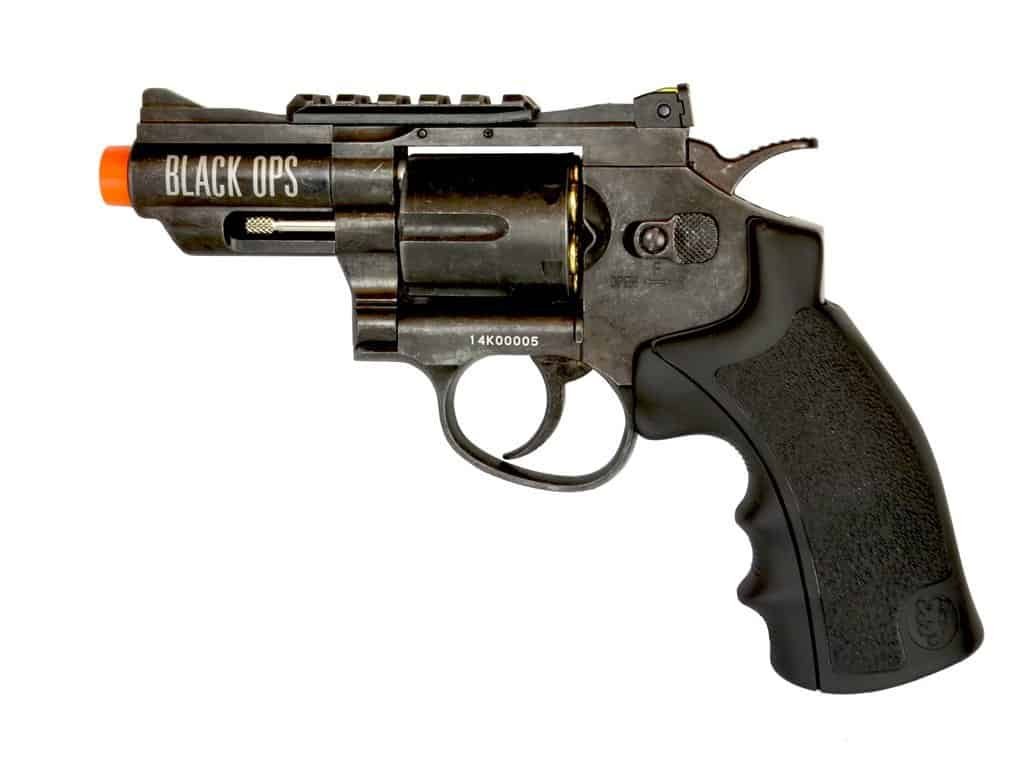 First of all, you get CO2-powered revolvers and green gas-powered revolvers.
This is a CO2-powered variant, and it is a beast of a pistol.
Although at first glance it may seem small, it packs an absolute punch, reaching ranges that some of the longer barreled weapons cant.
It is one of those high-end products that players only dream of buying.
Yet, the Black Ops Exterminator will make it into their weapon kit, thanks to the budget pricing.
And, more than the pricing, the features of this pistol is what sets it apart.
With a full metal body and polymer grip, you are in for some fun because it offers the most realistic experience of holding a revolver.
It comes with a 12g CO2-powered magazine and 550 FPS w/ .12g.
If you want a powerful pistol to defeat your opponents, this is one of the best options to have.
A little guy that packs a punch, while it may not be the most attractive, the black ops has the advantage of size on its side. This makes it very easy to carry and very easy to access if you're cornered
With a 6 inch barrel, you can expect to counter with some fast shooting when you are under attack.
The 6-round cylinder accompanied with an ejector rod and real double-action hammer gives the much-needed thrust to hit your opponent hard.
This model also has adjustable fiber optic sights, including 6 realistic cartridges to ensure you don't run out of ammo during the fight.
If you're looking for something that can easily be tucked away on your belt or wherever you would keep it, so you can have easy access to it in a tight spot, then this is the one for you.
Black Ops Exterminator
Long life, consistent firing, and an authentic replica – this pistol is as good as it gets in the Airsoft world.
The full metal construction and polymer grip make it easier for the player to hold the rifle.
This is also a CO2-powered revolver with enough power to defeat the other team almost all by yourself.
Precision is key when you are playing the game, and this beauty with a smooth double-action hammer, 4-inch barrel, and adjustable fiber optics delivers the accuracy you need.
One of the unique things about this weapon is it offers the user to customize it according to their requirement.
You can add your preferred accessories and optics to include in the Picatinny rails, giving the pistol a more realistic look.
The finish is so sleek. One of the best things about this guy is its combustibility. There are so many add on's for this gun from scopes, even all the way through to hop ups to help improve your accuracy
The pellets and BBs are available in metal cartridges so that even the magazine has an authentic resemblance of a real rifle.
Most importantly, metal cartridges provide better accuracy and maximum range while you are attempting to shoot down your opponent who is at a significant distance.
This weapon allows for a quick magazine change with its 6-shot cylinder and ejector rod. so your opponents better have their safety gear on.
While this one may have a smaller barrel, its far from a low powered weapon. It can still shoot at a high fps and make the distance of even the furthest away players.
I have to say that this personally has one of the best grips I've ever felt on a airsoft revolver. The blend and mound feels amazing and makes it so comfortable when firing away, just perfection.
Crosman SNR357
Have you seen the revolvers used by the local police officers around you?
If you have, you will not be able to find a difference between those and the Crosman SNR357.
It is small, powerful, and lightweight – a combination that players prefer when they are all out attacking their opponents.
They come in both black and grey, and the finish on them is one of the best we have seen, able to withstand heavy usage and is even prone to most scratches.
Classic look for a classic gun, If you're after a airsoft revolver that not only looks fantastic, but feels like you're holding the real thing, you cannot go past SNR357. Its design and overall finish is very rarely seen now days as is one of my personal favorites.
This is also another CO2-powered rifle with dual ammo settings and a full metal body.
Metal-bodied revolvers give the perfect balance to players to hold them in the right position to shoot accurately.
It has a snub nose, and the lead pellet velocity reaches 350 fps depending on the distance, which is a huge distance when you really look at the size of it.
Most importantly, the 6-shot swing out cylinder comes with reusable cartridges
To make it more realistic, the makers have added a cylinder release switch, silver trigger and hammer, and adjustable rear sight.
This not only improves the overall look of the gun but also increases the shooting accuracy.
With a quick magazine change, you can refill your cartridges quickly so that your opponent is not able to gain an advantage by shooting your team down.
This provides a much larger advantage over the older style airsoft revolver that some use in this game, trust me , I know.
TSD Sports 6-Inch Barrel Spring Powered
This resembles the cowboy revolvers you see on TV. It has a 6-inch long barrel with single-shot hammer action.
This is one of those rare models that come at a budget but provides ample facilities to make every airsoft round thrilling.
What makes it even more realistic is you need to cock back the hammer manually like the cowboys often do after they take a shot.
The shells quickly load into the cylinder giving players time to aim and shoot accurately
One feature that separates it from the other models is it has 8 single sound shell magazines.
This provides enough ammo to counterattack your opponents, and will make sure that you wont run out at the worst possible time.
The price makes this a great first weapon, not only that, its build quality is solid and has a much larger barrel than most, making it an excellent choice for long range shooters, and hey, who doesn't want a bigger barrel?
The TSD Sports 6-Inch Barrel Spring Powered Airsoft Revolver is one of the handy revolvers to have when you need both performance and ample ammo.
With a maximum velocity of 260 fps, you can expect the pellets to hit your opponent if he/she is standing afar thinking that your pistol doesn't have the range to hit them.
It has the much-needed punch to make the pellets go the distance. If accuracy is your priority, this monster of a gun will not disappoint.
This is also one of the cheaper options available today and is a sensible option if you're a little strapped for cash but still want something that is decent quality with a bit of power behind it.
This is one of the better buys for younger players as its affordable, very easy to use and maintain, and it doesn't have the extensive power as some of the other ones.
HFC Gas Powered Airsoft Revolver
This magnificent little gem crosses between a more classic looking revolver with a bit of a modern ouch.
To start with, the grip is fantastic on this, and feels just right in your hand when moving around, crouch, or even crawling if you have to.
The build and construction on this is of the highest quality ABS standard and could be dropped multiple times and not even chip
This is a green gas powered product which means that the firing rate and the distance you will be bale to fire is going to be above the rest, and will give you a pretty solid tactical advantage over the other team.
It also has a double action build for a faster fire rate, which if you're in a high adrenaline capture the flag game, this will come in handy as every one will be running everywhere.
The FPS on this is around 260-280 which gives you enough of a punch to be able to shoot at a decent distance, but it uses .20g BB's which have a bit of weight to them, so the accuracy is going to be top notch.
The rotating cartridge pops out very easily which makes for exceptionally fast reloading, so ensure you have plenty of cartridges stashed away because you will want to be firing this all day long.
Solid build with a value price that cant be looked past. Overall this is a great choice for those looking for a cheaper alternative that has one of the best builds out there and has a decent fps.
This is a cheaper option, but its build quality and fps makes it a great buy. Ive actually had two of these in an airsoft match once and dual wielded them and I have to say, it was one of the funnest experiences Ive had playing the game.
Black Ops Exterminator Full Metal Revolver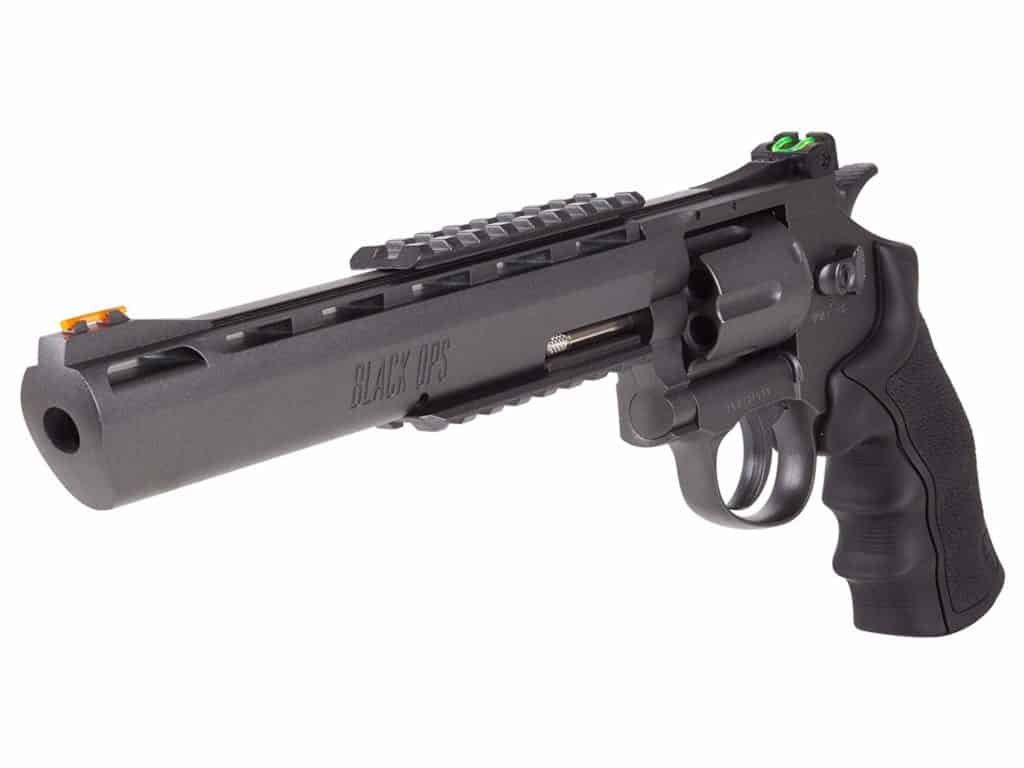 This airsoft revolver is built very solid because besides the handle, everything is full metal chrome.
You would think it'd be on the heavy side, but it's not. It's lightweight and easy to handle.
If that wasn't impressive enough, you'll love the fiber optic sights
The Black Ops Exterminator suits its name well because it is extremely powerful, which is surprising due to its size.
It is reliable and a dual-action gun, so you can bet the accuracy is excellent. If you're after a revolver that packs a punch and will hit the target nearly every time, then look no further than this.
Furthermore, it can fire off many rounds rapidly.
What's even more impressive is it won't use up CO2 quickly.
It will last a longtime, which is why we highly recommend this one.
The revolver is perfect for beginners and experienced users alike.
As a beginner, you'll appreciate how easy it is to use it and as an experienced player, you'll appreciate its power
It won't take you long to realize the Black Ops Exterminator is one of the top airsoft guns out there.
The Black Ops Exterminator goes for just around eighty-dollars, making it one of the pricier options, but one that you wont regret.
This is revolver is high quality and we believe it should cost more. For the price, you get a lot of value.
Due to the longer barrel that is built into this, it makes it incredible easy to shoot while crouching when you have s steady lock on your opponent.
If you're looking for something that is solid, well priced, and comes with an assortment of great features, then this is the one for you.
Umarex 2252109 Brodax Air Pistol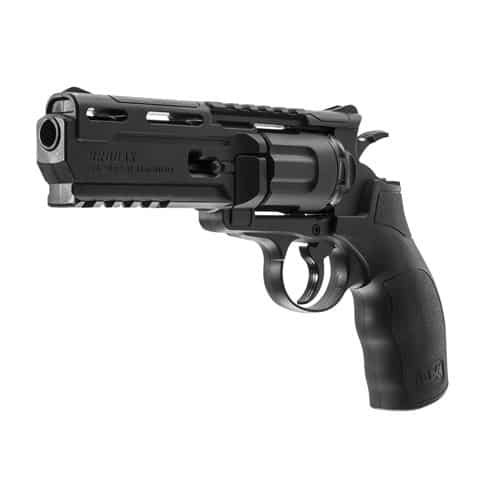 The Umarex 2252109 is one of the most realistic revolver replicas out there today.
This gun doesn't just look like the real thing, but it offers realistic revolver action.
you're a serious airsoft gun user or a collector of airsoft pistols, then you'll want to add this to your inventory.
The frame of the gun is polymer, so the gun is easy to maintain and shouldn't break on you anytime soon.
However, it could be more durable if it was made with chrome, but polymer is a durable material for an airsoft revolver.
As long as you're not constantly dropping it, the Umarex 2252109 will remain in good condition for years to come.
It's also worth noting that this air pistol fires off shots at 375 feet per second and is a 10-shot pistol.
We also love that the grip features an integrated hex key.
This is a highly responsive revolver, but there is just one complaint and that is the BB pellets might not fit as tightly as they should.
This may be an issue for some people, while others won't be bothered by it.
Did we mention that the gun is cheap? It costs just around $30, but don't let the low price trick you into thinking it's a low quality revolver. It is far from it.
In its own right, this thing is a beast though, it provides a fairly high fps and a great range of accuracy.
UKARMS Spring Airsoft Gun – 6 Shot 357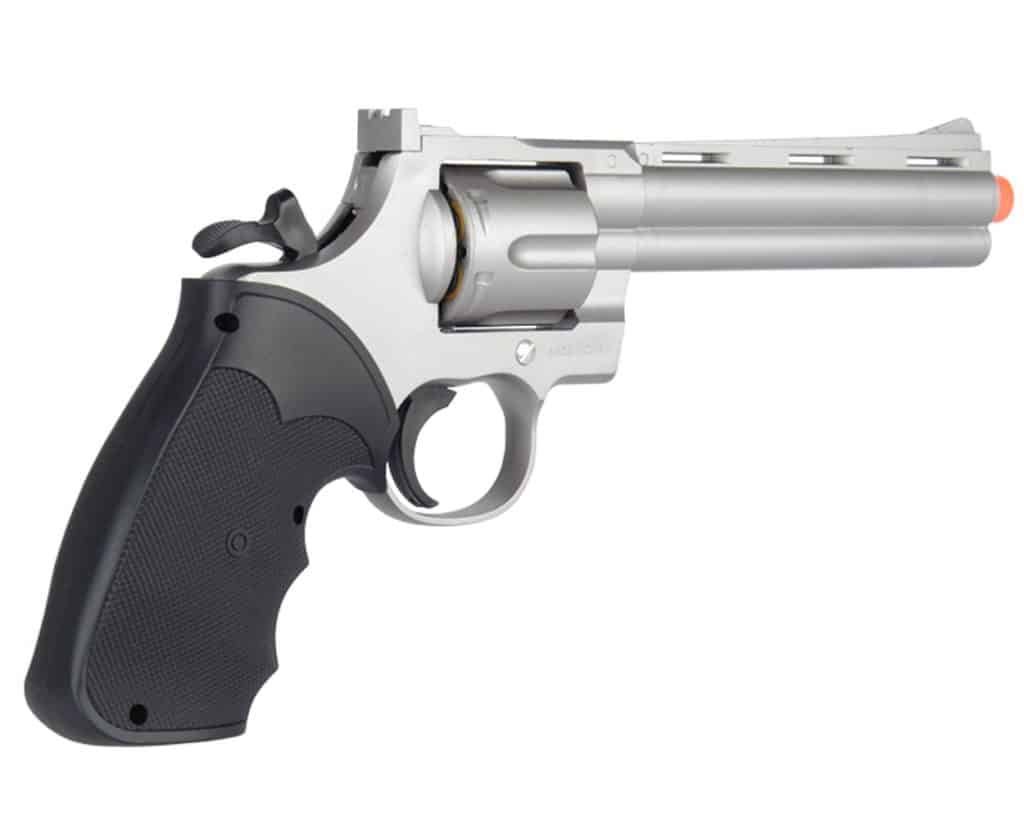 One of the best things about the 6 Shot 357 is it can shoot up to 50 feet and if you're an expert at airsoft play, then you should be able to hit targets from that far.
The shooting mode is spring action, while the firing mode is single shot, which means there is no cocking.
Simply pull the trigger and you're good to go.
As for its weight, it is extremely light at just under 1lbs.
As for its weight, it is extremely light at just under 1lbs.
The barrel could be built better. Not only that, but some people might consider the handle to be a bit on the heavy side.
Not only that, but the durability could be better. The handle can feel a little cheap at times, but for the price, its hard to complain.
As long as you're careful when using it, the 6 Shot 357 should suit its purpose, even during the most extreme games.
This revolver is just under twenty-dollars, making it an absolute steal for most players.
This is an absolute bargain and we can't believe that it is priced that low.
As soon as you start using it, you'll be surprised at how much you paid for it too.
Final Thoughts
Now that you have an idea of some of the best airsoft pistols in the business make sure you buy the one that suits in your hand perfectly.
Compare the features and decide which model will fit your budget.
And, once you have it, go for a game with your kids or friends and see how thrilling it is.
Don't cheap out when it comes to one of these products as choosing the right one can make all of the difference in your game.
When I spent time carefully considering which one I wanted, i really put in the effort and ended up getting the Vigilante, and I haven't looked back since.