Do you use airsoft guns, but don't wear eye protection? If so, you'll want to buy a pair as soon as possible, as it could mean the difference between a fun game, or one where you're out for the entire match due to an eye injury.
In this article, you'll learn what these types of airsoft goggles are, why people use them and what the key benefits of using them are.
Also, not all products are created equal.
That's why we've put together a list of the top nine on the market.
That said, read on to learn what those five are and other useful info about airsoft goggles.
What Are Airsoft Goggles
They are goggles that resemble traditional ones, but they have been created with airsoft gun users in mind.
They fit over your head and cover your eyes to protect them.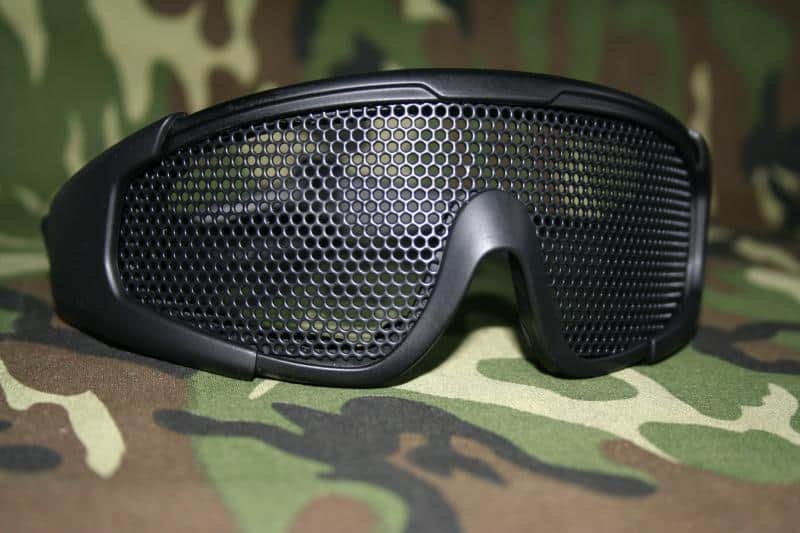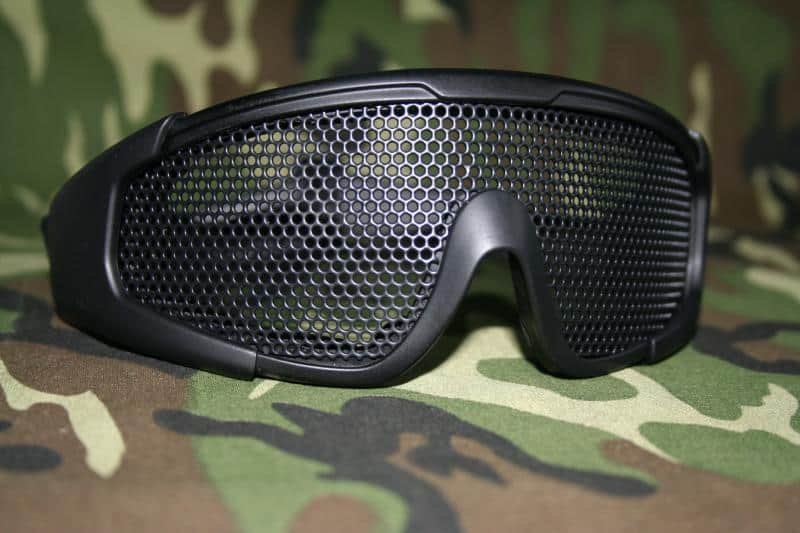 Just like regular ones, they allow you to see and they are available in dozens of styles and designs, as well as made with various materials.
Why Use Them?
Goggles are designed to do just that, which means your eyes will be protected from being accidentally struck in the eye with pellets.
People wear them during competitive competitions and for casual matches whether it's at a venue for players, the backyard or elsewhere.
Furthermore, people who just use airsoft guns and rifles by themselves wear them.
Remember, even if you use these weapons alone, there is always the chance of being hit in the eye due to backfire and ricochet.
Plus, people tend to do a lot of running around while they play the sport and goggles can protect their eyes from being damaged due to things like running into an object, dirt and so forth.
The 9 Best Airsoft Goggles
Now you know what they are are and why people use them. You also know what the benefits of wearing them are.
With that said, the top five best airsoft goggles you should consider buying.
Wide Vision Airsoft Mesh Goggles
As the named suggests, the lenses are wire mesh.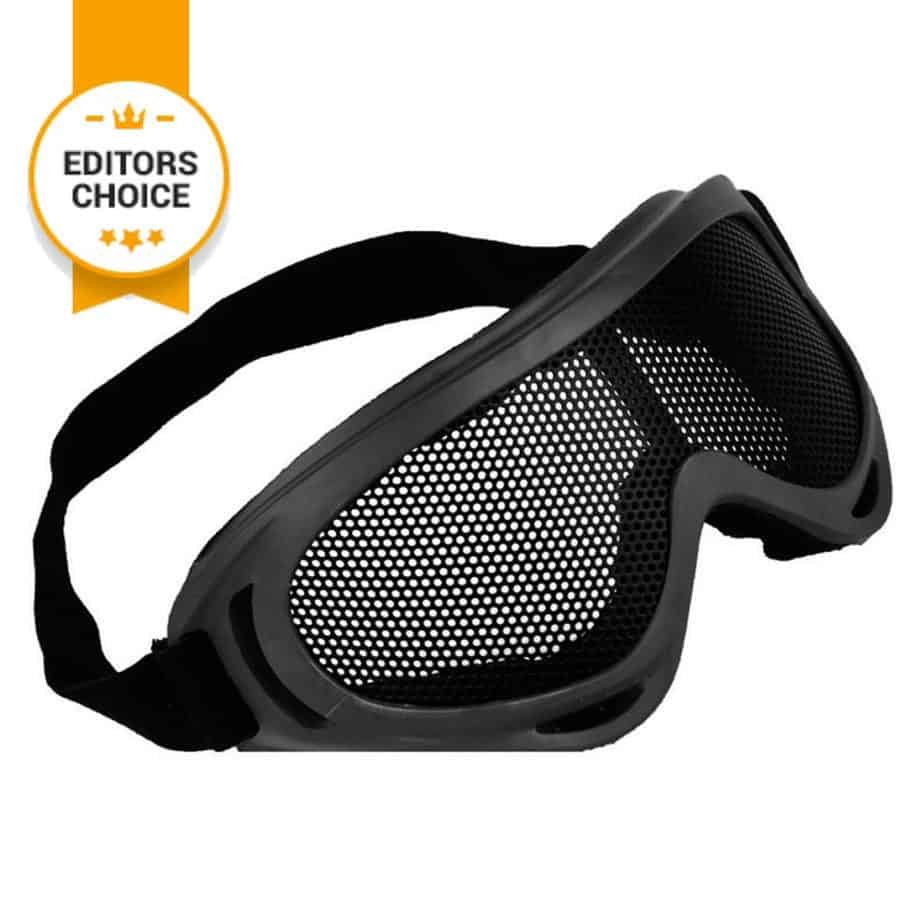 Don't worry though because the mesh is strong enough to withstand very high impact.
It doesn't matter how intense the game of airsoft you're playing or how many players are taking shots at you, your goggles will holdup to a lot of punishment.
Another good thing about them is that they are equipped with straps that are elastic and that can be adjusted and even added onto a separate mask.
Perhaps the best thing about these is you will not have to worry about the lenses fogging up in the middle of the game, as they have wire mesh instead of lenses.
Although one of the cheapest, these are by far one of the best choices due to the versatility of what you can wear them with.
They can be worn with the majority of airsoft masks, and if you have a uniquely designed one, it can give your outfit a look that others will be envious of.
Ive been using a pair of these for over two years now and I have never had any issues with strap slippage, BB's getting any where near my eyes and it even keeps out a good amount of the suns glare.
They are extremely comfortable to wear because they are lightweight and they were made with pliable plastic that is soft.
The price for these are more than fair, and for the decent amount of quality you get, is why it makes our editors choice list.
They sell for around $15, which is a bargain.
For that price, you might want to consider buying two pairs.
Pyramex I-Force Sporty Dual Pane
These Pyramex goggles are ideal for those who are looking for durability.
They do an excellent job at protecting the eyes from minor scrapes and bumps.
Many people actually wear these goggles for work, so if it's good enough for that purpose, then it's definitely good enough for airsoft matches.
Another good thing about them is they are compatible with various types of hearing protection aids.
Wear them if you wear protection for your hearing and you'll be good to go.
They can also be worn over your prescription glasses, all without causing your discomfort.
We also want to point out that they are multi-purpose.

Do you play other sports? If so, then you'll definitely get your money's worth and then-some with a pair of Pyramex I-Force Sporty Dual Pane goggles.
It's important to note that these beauties do go for around $60, but they are worth every penny and will be a great addition to your tactical load out.
These are one of the best airsoft products out there.
They are the pair you want if you're after an extremely durable and reliable pair of eye protection.
Pyramex Safety V2G-XP Eyewear, Black Strap, Anti-Fog Dual Lens
Another pair of Pyramex has made it onto the list, and these pair of goggles go for around $85.
Some people may think that's a bit on the high side, but it's really not.
In fact, these goggles are just as good as any of the higher end brands out there.
Theseare low-profile and stylish.
If you plan on playing with a bunch of other people, then you can bet you'll have the most stylish pair of goggles if you are wearing these ones.
Not only that, but they are very comfortable too.
The ventilation that they provide is impressive, which means you don't have to worry about your eyes feeling like they are being suffocated.
Another good feature is they are anti-fog.

The strap that comes on these is elastic and provides a good amount of real estate to fit comfortably on any head size.
The thick plastic build will make sure that the upmost protection is guaranteed when wearing them and even fits in well with most masks.
Go ahead and play for hours on end. You can rest assure these lenses will not fog up and interfere with your airsoft match.
Lancer Tactical Ca-221B Clear Lens Vented Safety Airsoft Goggles
Lancer Tactical has produced the CA-221B goggles and they are a very reputable brand.
These allow for the utmost airflow and the frame was made with Polyurethane thermoplastic.
The lenses have also been made with durable material and the inserts are padded foam for comfort.
One of the best things about them is you can easily wear them for hours on end. It is the ideal pair to wear for long matches.
However, feel free to wear them for any length match.
The price for them is only around $16, which is inexpensive.

If you didn't know any better, you'd think they would have cost you much more than that.
One of the best features of these is the viewing.
Due to the large lens, t makes it incredibly easy to have a full view of your surrounding, ensuring that you wont miss any opponents trying to sneak around you.
The ventilation setup is also fantastic. With top and bottom mounted vents, almost no fog or condensation will build up, even on the hottest and coldest days, making them ideal for more extreme weather conditions.
If you're after a pair of cheaply priced goggles that are of high quality, then this is the pair for you.
Virtue VIO Ascend Thermal Paintball Goggles
The last on our list is this amazing product, which offers increased coverage thanks to their design.
Besides that, they offer the utmost clarity, so when you're playing airsoft matches you won't have to worry about things becoming distorted as you keep an eye on objects and targets.
If you're playing outside, then you'll appreciate the thermal lenses because they offer UV protection.
The goggles are lightweight too, even thought they have a full face design.
They feature layer eye foam that can be removed too.
If that wasn't impressive enough, it's worth mentioning that they allow for maximum airflow, so it allows you to play in complete comfort.
This is also one of the most durable builds on the market today.

This product is an absolute beast and has been in my personal collection for years now.
You're not just getting the goggles, you're getting an almost full built helmet, which makes the safety unparalleled to most others.
This is an option that is one of the best for beginner players as it provides some of the best protection not only from projectiles, but from the suns glare, making it far easier to play.
For a price of around $95, they can be yours.
Trust us when we say these are easily among the best out there for airsoft matches.
XAegis Airsoft Goggles
These multipurpose goggles can be used for a variety of outdoor activities in addition to airsoft, including hunting, cycling and paintball among others.
To protect your eyes from high velocity airsoft pellets, the XAegis Airsoft Goggles are designed with impact resistant polycarbonate lenses.
Furthermore, they come with 3 interchangeable lenses, clear, smoke and yellow, to ensure that you get to choose the right pair depending on the current circumstances.
For utmost comfort, and the best fit, especially when wearing them for extended periods, they're are made from a bendable Thermoplastic polyurethane frame.
An adjustable headband and foam covered breathing vents also add to the comfortable design.

Priced at around $16, these high quality multipurpose airsoft goggles represent great value, especially considering the fact that they come with three interchangeable lenses.
Outdoor Sports Military Airsoft Tactical Goggles
If you are looking for a pair of airsoft goggles that can keep up with the rigors of this interesting sport then the shatterproof anti scratch goggles are definitely worth considering.
The curved, bendable TPU frame ensures that you get a tight but comfortable fit at all times.
To protect your eyes from dust, dirt and airsoft pellets, the goggles come with extra strong PC lenses.

The package includes a sleeve that can be used to shield the goggles from impact and wear when they are not in use, or as a comfortable buffer against the back of the head when wearing the goggles, almost like a mask would do
Since airsoft is an outdoor sport, there's no telling what type of weather or environmental conditions you might encounter in the field; fortunately, you get 2 interchangeable lenses with this product, making it easier for you to pick one that matches the existing conditions.
They are also night vision compatible as well, further enhancing their versatility.
Given their solid construction, interchangeable lenses and multipurpose design, these are reasonably priced, at around $19.
Pyramex Highlander Plus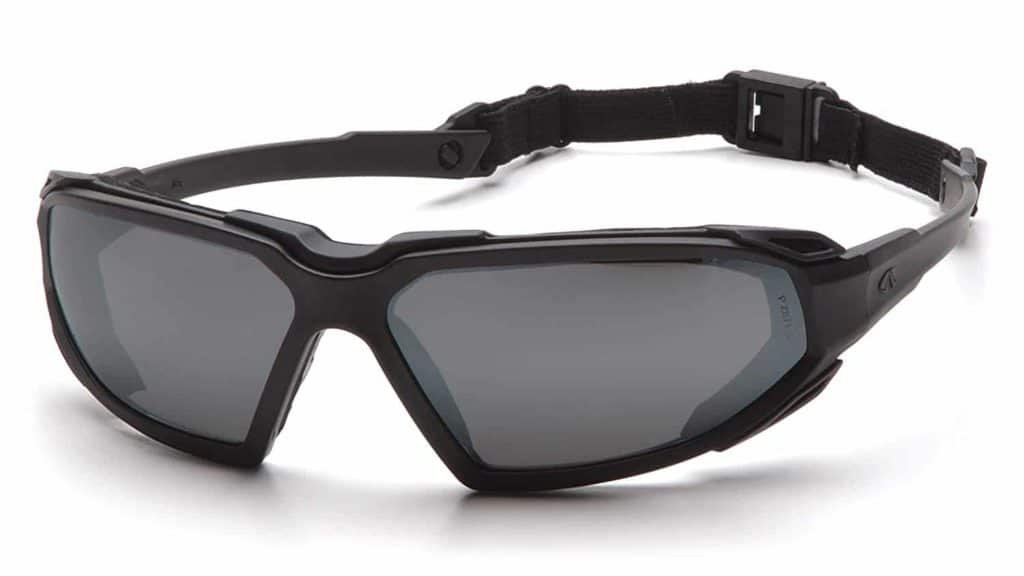 A stylish but resilient, this pair of goggles can be used to provide eye protection during airsoft matches or as a sporty pair of sunglasses.
While these glasses might not seem like it, they provide adequate protection against high velocity airsoft pellets, with their impact resistant polycarbonate lenses and the extended side impact shielding design.
To ensure that they remain in place, the goggles come with an easily removable elastic strap.

Furthermore, the detachable inner foam lens clip facilitates a comfortable fit.
The detachable strap and lens clip can be removed for a sporty look.
While it doesn't offer much protection your your forehead or the lower part of your face, for more experienced players, this is a solid option.
While this sporty pair of goggles is affordably priced, at around $11, and capable of protecting your eyes from airsoft pellets, they come with more drawbacks than others reviewed here.
Lancer Tactical CA-221GB
These are specifically designed to be used by airsoft players.
This means that each and every design and construction feature is optimized to optimize your performance during airsoft matches.
For starters, they provide you with all the protection you need to keep pellets and dust particles from reaching your eyes, while maximizing visibility.
Your peripheral vision is maintained thanks to the large smoked grey lenses fitted on the goggles.

To ensure that your concentrate on the activities at hand, free from any unnecessary distractions and/interruptions, the goggles can be worn comfortably for extended periods.
You can thank the tight but comfortable adjustable headband and the soft foam used to line the inner surface of the green frame.
The padding that is attached to the strap is one of a kind, ensuring that you have the most comfort but also reducing any slipping that would usually happen when playing.
At $16, these well constructed and highly reliable airsoft goggles will ensure that your eyes get the protection they need without you having to dig too deep into your pockets.
Final Thoughts
When it comes to airsoft goggles, only the best will do and any of the above are well worth the money.
Feel free to take a bit more time to decide which of the above five goggles you should purchase or go ahead and buy a pair today.
Better yet, consider buying all nine, hey why not, that way you have more than one choice every time you use head out for a match.