Are you planning to become an airsoft sniper? Are you ready to take out some long-range targets? Do you want to become the go-to-guy on your team? If you answered YES to any of these questions, you have come to the right place.
The first thing you need to do is to shop for a high-quality airsoft sniper rifle.
Becoming a formidable airsoft sniper isn't an easy task. In fact, there are many things to consider when doing so.
Wearing the right clothes, being quiet & stealthy, and having the right ammo are all important in this regard.
The most important thing is to have a great airsoft sniper rifle, one that is solid, allows add-ons and has a fantastic fps
But choosing the right one is easier said than done with all the products on the market today.
Here are some of the most important things to consider when you are shopping for the best option.
What Is An Airsoft Sniper Rifle?
These rifles are designed to fire at a high FPS so that you can take out targets at a long range.
To fire pellets further and faster than the standard pistol or pump action, most of the rifles on the market are bolt-action.
This makes it more challenging to operate the rifle – especially if you have been shooting semi or full-auto MP5s, AK74s, and M4s.
However, you have to endure the challenge in order to take out a target at 300 yards.
Most of the sniper rifles have extra-long barrels and hop ups for this purpose.
In fact, this will allow the rifle to fire pellets from 400-550 FPS.

The Different Types Of Airsoft Sniper Rifles
Hunting for the best rifle isn't an easy task.
There are so many products out there and choosing the best product can be quite challenging as a result.
That is why you should be doing the necessary research when choosing the best product that matches your needs.
There are three basic types of systems that can be found in the sport.
Spring Powered Rifles
A spring powered or bolt-action sniper rifle is quite a popular choice among those wanting to start out
These guns are designed similar to a real rifle and the shooter should pull a bolt to load and cock each round.
This type of rifle can shoot pellets up to 550 FPS – allowing the shooter to take up targets several hundred yards away.
Electric Sniper Guns
This type of rifle will operate via a battery pack.
It requires nothing more than just pulling the trigger to activate the gun. This is the best choice for beginner shooters.
There are a few electric sniper rifles that can shoot up to 500 FPS.
Gas Powered Sniper Rifles
This type of gun uses compressed gas to propel the pellets.
The gas is usually stored in an external removal tank in most cases.
These guns are much more accurate compared to other types of rifles out there.
In fact, adjusting the hop-up is much easier with this type of rifle.
You will benefit from a more consistent muzzle velocity when you invest in this type of setup.
This type of gun can be used for semi and fully automatic operation.
On the other hand, spring guns are limited to single shot operations since the spring has to be tensioned back after each use.
The blowback mechanism of the gas-powered airsoft gun is another benefit of the product.

The slide will move back with each shot and will give you a recoil effect similar to a real gun.
That is why you should be investing in a gas-powered airsoft rifle.
Most people prefer to choose a gas-powered rifle for the sport due to its degree of realism.
On the other hand, gas guns offer more power and can shoot a longer range compared to electric and spring rifles.
Things To Keep In Mind When Buying An Airsoft Rifle
Choosing the top product on the market is quite a daunting task.
There are many things that you need to keep in mind when shopping for such a product.
The terrain that you play will influence your decision when choosing the best rifle on the market.

Just like in real life, there are many experienced teams and playing fields such as woods, urban, desert, and indoor.
The type of rifle – such as gas, electric, or spring – will affect your decision in this regard.
On the other hand, the range and accuracy are other factors to consider when shopping for the best product .
Here are some of the best gas powered sniper rifles.
KJW Full Metal M700 High Power Airsoft Gas Sniper Rifle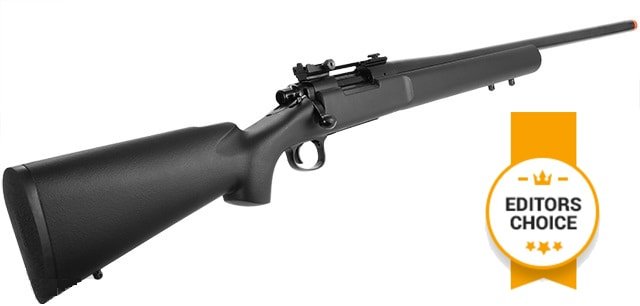 This rifle comes with an adjustable FPS and better portability.
This is one of the best gas-powered rifles ever made for airsoft.
I have personally used this sniper more than a few times and I can say that the build quality and durability of this weapon is a cut above the rest.
It feels incredibly natural when holding it and the kick back on it is very minimal, making it very easy to fire and obtain great accuracy when locked onto an opponent.
The performance, durability, reliability, power, and accuracy are some of the salient features of the product. It is portable, compact, and comes with a light trigger pull.
Here are some of the important features of this product.
Could be taken down instantly into two pieces for easy transportation
The full metal construction feature with a high-quality polymer stock
4-Way adjustable front and rear sight
The safety switch
The adjustable Hop-up System
Extremely light trigger pull
Light bolt pull
Very high powered
Great range and accuracy
WELL L96 Gas Powered Airsoft Sniper Rifle
This is another great gas powered sniper rifle due to its durable build and the accuracy in which it can shoot.
The product is very popular with so many clients due to the many features of the rifle.
This is more of a classical type of sniper as it has the lower end heavy build with allows for a comfortable under the arm lock.
While this model does not come with a scope built in, the range of accessories that fit this build is almost endless.

Here are some of the salient features of the gun.
Comes with a heavy-duty metal barrel, trigger, and bolt assembly
Includes scope and scope mounts
A smooth pull bolt
Made from a durable heavyweight polymer stock
Comes with an adjustable mono pod (built into stock)
Improved performance and consistency
The AGM MK96 Bolt Action Sniper Rifle

Without a doubt, the AGM MK96 is one of the top airsoft guns on the market, especially since it is packed with an array of features.
This includes the thumb-hole stock, which provides the user with the utmost stability.
Besides that, the gun features a rubberized cheek rest, as well as a butt-pad, both of which provides the user with comfort.
Another noteworthy feature is its build.
It was created with polymer, which is very durable and this means the gun can withstand a good amount of punishment.
Users will find it refreshing that this gun won't break just because of a few times being dropped.
The MK96 is even equipped with a scope and speed loader.
Loading up the MK96 is fast and simple, which can offer an advantage over those who don't have a gun that is as quick to reload.
Furthermore, there is a optics rail that is located at the top of the gun, but users are free to use the scope that comes with the gun, which eliminates the need to purchase another scope.
If that wasn't impressive enough, this gun can shoot fast.
It can repeatedly shoot over 350 FPS. This is why its the perfect airsoft gun for competitive matches.
Perhaps the best thing about the MK96 is its price.
It sells for under $130, which is a bargain. It's a high quality gun with a solid build.

The WellFire SR22 Bolt Action Type 22 Sniper


The SR22 from WellFire sells for around $200 and it has a solid build.
The best thing about this gun is it fires BB's rapidly, and it holds 25 rounds.
Users can easily and quickly fire off those 25 rounds, which can give them an edge over other airsoft users if they are competing against one another.
The scope is a great feature because it is adjustable.
Users can adjust it to suit their preference.
Whether it's for elevation or windage, users will appreciate how easy it is to adjust the scope.
The gun does weigh 10 pounds.
It's not too heavy, but it's definitely not the lightest airsoft gun out there. Nonetheless, holding onto it for long periods of time shouldn't be an issue for most people.
If a user is going to be engaging in a competitive game for a few hours, then this gun should do the trick.

Its cheek pad can be adjust too.
If a user is looking for a gun that is comfortable to hold and shoot, then this is it.
Trust us when we say that the WellFire SR22 is one of the top airsoft guns on the market.
The WellFire APS SR-2

This gun goes for just under $80, which is a steal.
The gun is equipped with a hop up, and it comes with several attachments. This includes both a bi-pod and a scope.
The scope has the capability of zooming in 9X, which is quite a bit for a low-end gun.
One of the most impressive feats of this gun is its magazine.
It has one 30 round magazine. It's on the small side and the construction is decent, but it's not on par with the two previously discussed guns.
On that note, the APS SR-2 is extremely light and users can shoot up to 100 feet and still get an accurate shot.
The bolt is also easy to pull back, but there have been users who have complained that it was difficult to pull.
Honestly, the WellFire APS SR-2 is best for beginners and those with very limited knowledge of airsoft guns.

It's a beginner-friendly gun, but it's really not for the serious airsoft gun user.
It's a good idea to purchase the APS SR-2, become familiar with it and then buy a better gun.
However, users who are good at sniping should get the APS SR-2.
It has excellent zoom and its accuracy is impressive. Just make sure the gun isn't dropped too many times because it's not that most durable gun out there.
CYMA VSR-10 Bolt Action Airsoft Sniper Rifle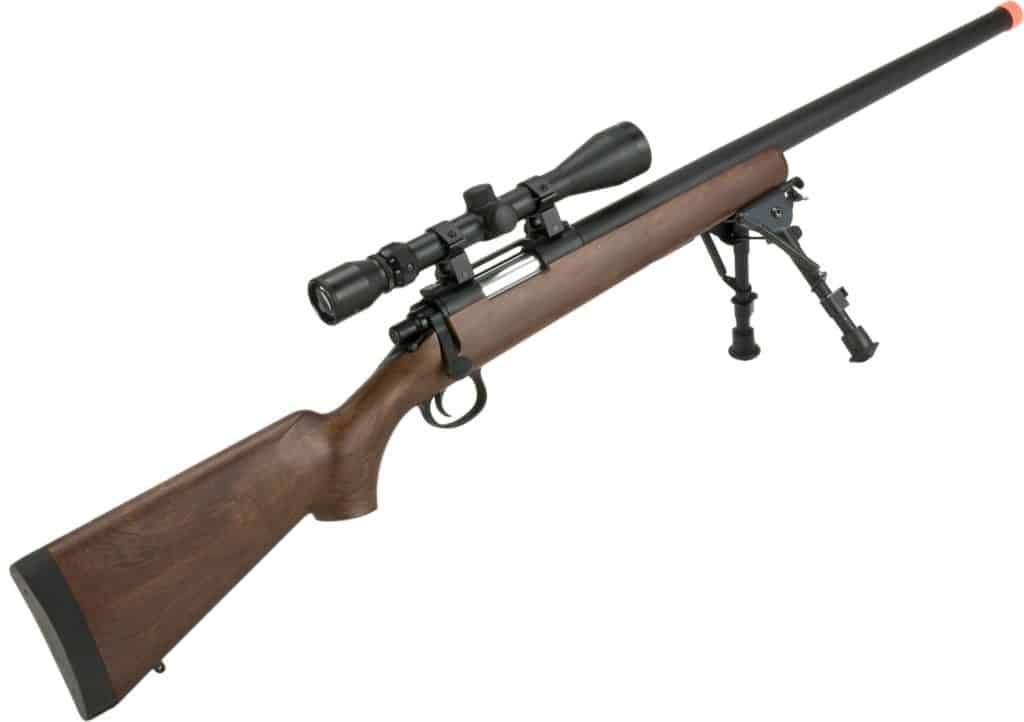 Right off the bat you're going to like the appearance of this airsoft sniper rifle if you like the old school wood look or appearance.
This is made of imitation wood stock that gives it a very old school look, and is a spring powered bolt action to help get rid of the need for additional gas or electric power.
The finish is durable, resistant to less than ideal weather, and I found this to be an impressive gun that could accurately shoot over very long distances even in comparison to many other airsoft sniper guns that are out there on the market.
The bolt action works smoothly and I've yet to experience a single jam.
This is an excellent model that combines durability, great looks, and the functionality you want from a superior airsoft rifle model.
USMC M40A3 SportLine Airsoft Sniper Rifle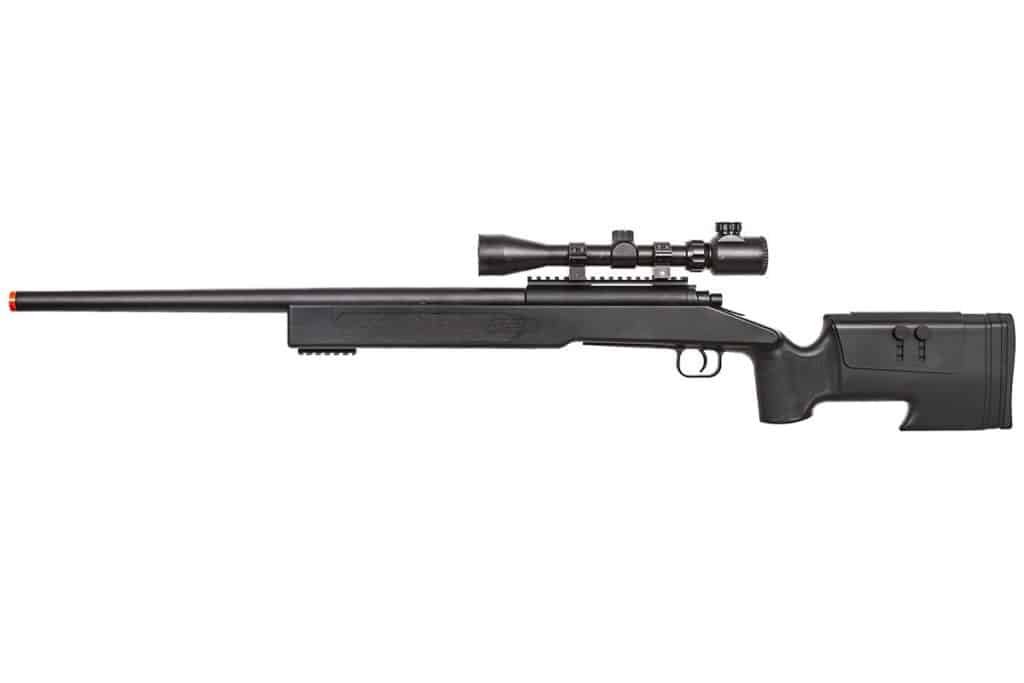 Featuring a kickstand, scope, and modern finish gives this a simple but sleek modern design that many enthusiasts will absolutely love. T
his is specifically designed as a fairly accurate replica of the famed M40A3 used by the United States Marine Corps.
Featuring a 20 round magazine, that is plenty of shots from a long range sniping type of rifle although it isn't the high end option that some others come with.
The aluminum barrel is well crafted and holds up to heavy use – maybe even part of the reason this rifle shoots so accurately, as well.
This is a very good options for those just getting used to the long distance side of what airsoft has to offer.
CYMA Full Metal M14 EBR Designated Marksman Rifle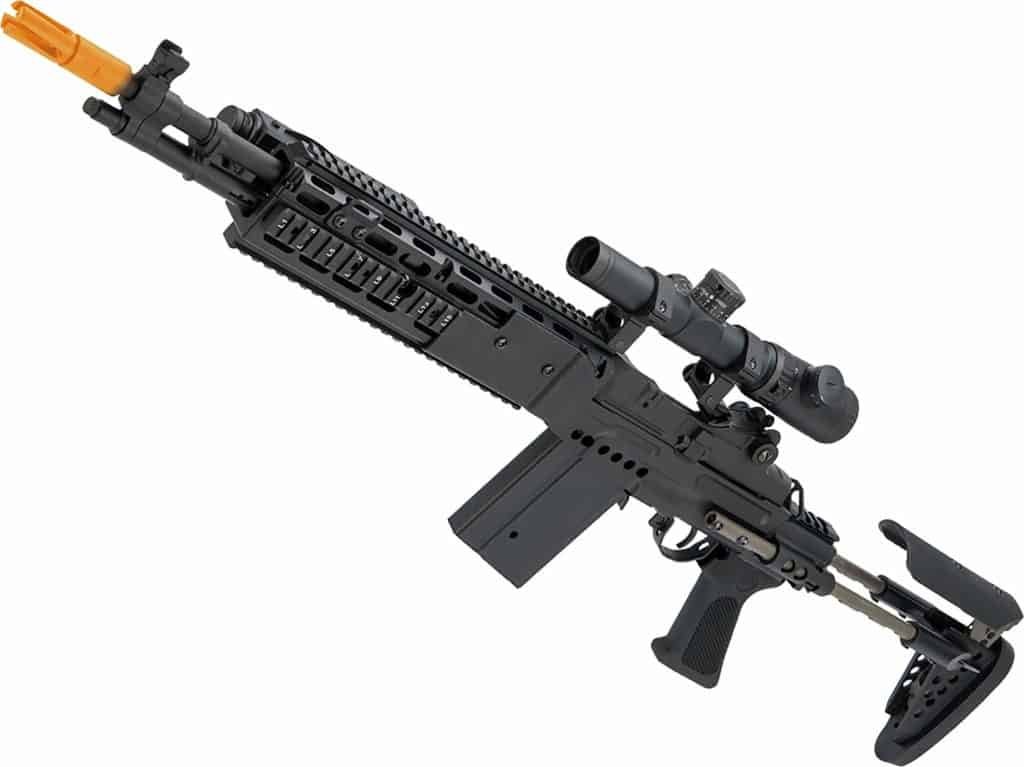 This isn't your traditional sniper rifle design as this looks more like a mid-range assault weapon design for airsoft guns.
Don't get me wrong, this is a beautiful airsoft gun with a very impressive appearance, the ability to shoot from long distances, just keep an open mind that this won't look like your "conventional" idea of a long distance airsoft gun at first glance.
This is an excellent design with mounting for a traditional scope or different optics of your choice, while the bottom part of the airsoft gun is well designed from battery power to hand guard and more.
This is a long-distance airsoft rifle that looks very good, performs well, and which won't disappoint its fans. Outstanding rifle that gets the job done and comes in at a price point that should keep most people happy.