Due to the variety of options in the marketplace, buying an airsoft gun is not the easiest task.
There are so many different manufacturers in the space, figuring out which one to get can be exhausting.
There are plenty of things that you want to look for when you are trying to identify the right airsoft gun ranging from type, material, and even price.
Before continuing, it is important to understand the terminology when looking at different airsoft guns.
FPS is the term used to describe the guns shooting speed.
Typically, the faster the shooting speed, the better the performance.

What also matters is the weight of the BB's it is capable of shooting.
Now that we have discussed some of the basic terminologies that you should understand going into the buying process, you are ready to begin looking to see some of the best available.
In this article, we will be going over some of the best airsoft guns that you will find on the marketplace under $50.
Best Airsoft Guns Under $50:
HB-104 Mini Electric Airsoft Rifle Full Automatic Firing Capability
The HB-104 is easily one of the best options under the $50 price point.
This is one of the best budget airsoft guns that you will find on the marketplace that features a spring tension mechanism.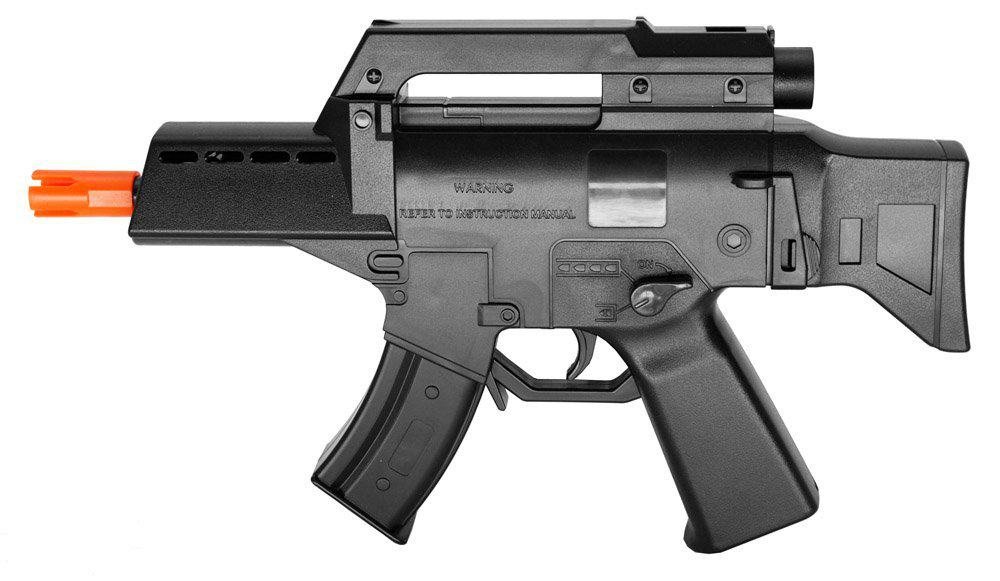 It is made up of ABS plastic which means that you will get something that is durable yet affordable.
While metal is certainly a much better feeling material, ABS plastic is just as good, if not better, for those that are looking for a solid and light build quality.
At an under $50 price point, you definitely want to opt for ABS plastic which you will find on the HB-104. With this gun, you are getting 125 FPS with. .20 gram BB.
This performance is adequate. While you would certainly prefer to get greater performance out of it, at an under $50 price point, it is nothing to complain about.
Certainly, if you are willing to spend more, you can find options that offer better performance.
Combat Zone Umarex .6mm Airsoft
If you are looking for a smaller gun, you might want to consider the Combat Zone Umarex 6mm.
Not only are you getting an extremely small and lightweight pistol made up of a combination of metal and ABS plastic, but you are getting a pistol that features up to 400 fps with .12 BBs.
Therefore, you are getting a good mix of affordability and performance.
It even has a metal drop-free magazine for ease of reloading.
It offers semi-auto action which can keep you firing faster along with a double action trigger for a better feel.
You are even able to add accessories to it including an under-muzzle Picatinny Rail which means that you will be able to add a light or even a red-dot if you are looking to use the pistol at night.
This is a great option as its easy to switch between this and a rifle when in a tight spot, but still provides plenty of power packed in such a small casing.
Desert Eagle Spring Powered Airsoft Pistol
This is another excellent choice within the $50 price limit.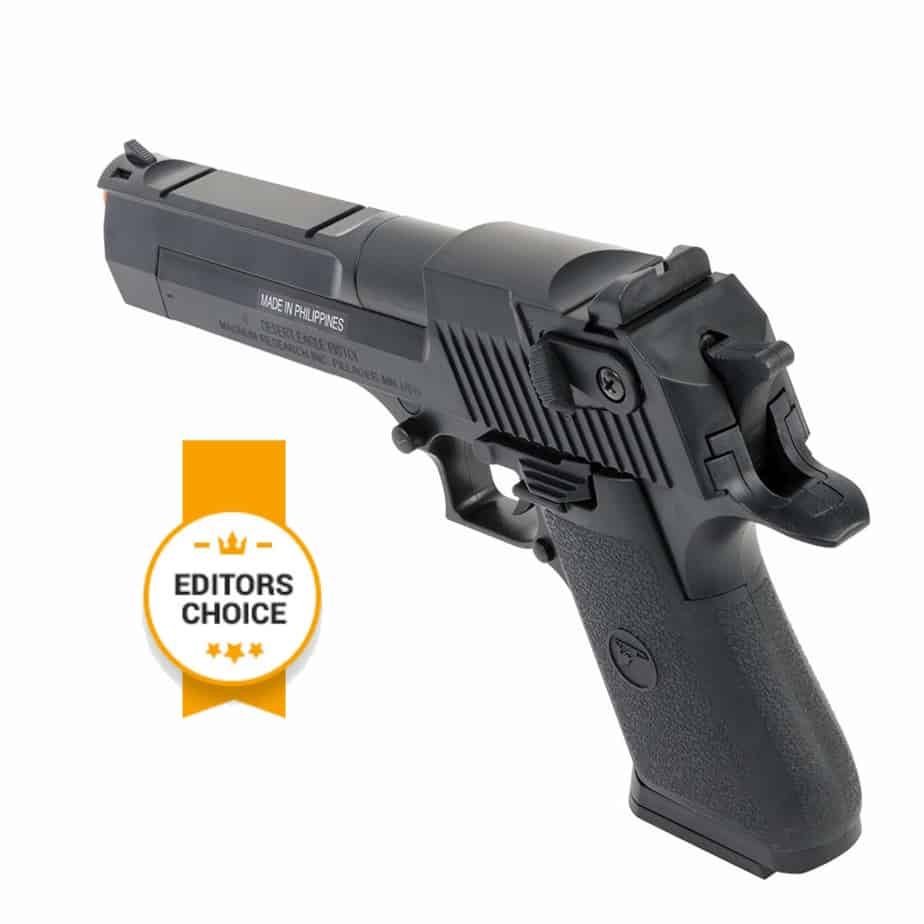 If you are aiming for a pistol type that offers much more weight and one that is going to feel powerful in your hand, you might opt for the Desert Eagle powered airsoft pistol.
Not only does it shoot at 175 FPS, but it offers a high capacity mag which can hold up to 190 rounds.
Therefore, you will spend more time shooting and less time worrying about reloading, so the opposing team better have the protective gear handy.
This is easily one of the most well built and constructed products under the $50 mark, and boy does it have some kick.
Even though it has a relatively low fps compared to some of the others on the market, this has the accuracy and grunt of a more higher end model that can go in the hundreds.
One of the biggest selling points of this one is the design, looking exactly like a real desert eagle gun, this gives you the look and feel of something that will make your opponents look twice when you pull it out.
This is a great choice for someone looking for something a little more well built with an edgy look but wont break the bank in terms of price.
Soft Air RIS Spring Rifle And Pistol On-Duty Kit
This particular bundle offers both a spring-loaded rifle and a matching pistol.
The Colt M4 that is included features a vertical grip for easy and accurate shooting.
Along with this, it comes with a flashlight attachment, and easy connection for a hop up.
With the Colt 1911 pistol, you are getting a lower rail. Both guns are spring powered.
The rifle is capable of reaching 310 FPS with .12g BB's and the pistol is capable of reaching 200 FPS with .12g BB's.
Value for money is the first thing that comes to mind when looking at this product, as your getting two high quality guns for the price of one.
Not only that, but the rifle is also very customizable, with ad-dons such as scopes, lights, and laser dot sights been bale to make their way onto the rifle with ease.
While the rifle and handgun are spring powered, they are extremely powerful and have a great fps for the low price you are paying.
This is a better option for someone who wants to make a start in airsoft and is looking for something that is a bit cheaper but still packed with tremendous value.
If you are looking at the higher end of the spectrum, you can't go wrong with the FN Soft Air Scar.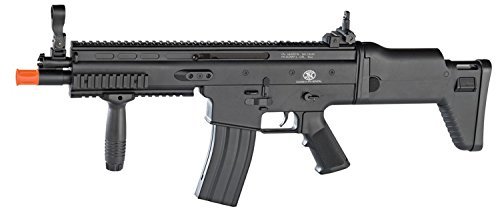 They have both electric and spring shooting mechanisms that you can choose from.
You will have to pay more for the electric version, but it offers better performance and more convenience.
The electric is capable of 260 FPS with .20 BB's.
Whereas the spring offers 400 fps with .12 BB's.
Both versions come with a retractable and foldable stock that will allow you to maximize accuracy with your shots.
It features a high capacity magazine that is capable of holding 350 BB's meaning you will spend more time shooting than reloading.
It also offers foldable front and rear sights that you can use to better line up your shots.
Overall, there are plenty of different airsoft guns that you can choose from.
A lot of it will depend on what you are looking for and the kind of value you are expecting.
The 5 guns discussed above offer some of the best 'bang for your buck.' You cannot find better value at the lower end of the market.