Now comes the fun part. I'm sure you're all wondering what types of weapons are used in this take on the sport.
The below guide is going to outline some of the very best replica weapons and guns that professional players use to hopefully give you an insight into how the game is played.
Unlike regular airsoft guns, these are based on exact copies that were used during the war and even take on the same loading and firing process as they did.
When choosing one, you want to make sure that it is the correct gun that was used for the side that you are playing for and ensure that the quality and the build is of the highest quality.
Below is a list of replica guns that we have personally used and enjoyed over the years. This list will provide you with accurate information on all of the products that we recommend for your next game.
Without any more delays, here is our list of some of the best ww2 airsoft guns that can be picked up today.

Our quick list
The Very Best WW2 Airsoft Guns On The Market
With a full metal construction and a beautiful black finish, this pistol is one that you will defiantly want to have in your arsenal.
This pistol, although may look small, packs a huge punch.
It uses 12-gram CO2 cartridges to ensure that the BB's fire at a high velocity and provides as much accuracy as possible.
This is one of the best made products out there and has a solid build that is almost impossible to break.

With a single action blow back setup, this is going to be one of your best friends when in a close combat game.
During this game you are going to want to have a pistol and semi automatic on hand, and we believe that this model will give you the biggest advantage and best accuracy overall.
I have had this pistol in my arsenal for years now and all I can say is that it's my favorite weapon to use when I'm out in the field.
The design, accuracy, even the feel of the craftsmanship is second to none.
This design is more from the German side but was occasionally used by the Americans, so it can be used no matter what side you are fighting for.
Pros & Cons
Pros
Incredibly powerful for its size
One shot or semi automatic option
Beautiful matte black or shiny black finish
Completely metal
As realistic as they come
Cons
Not the most accurate when firing from long distances
Wow! what can we say about this amazing sub machine gun. Not only does it look identical to the real thing, it also fires just like it.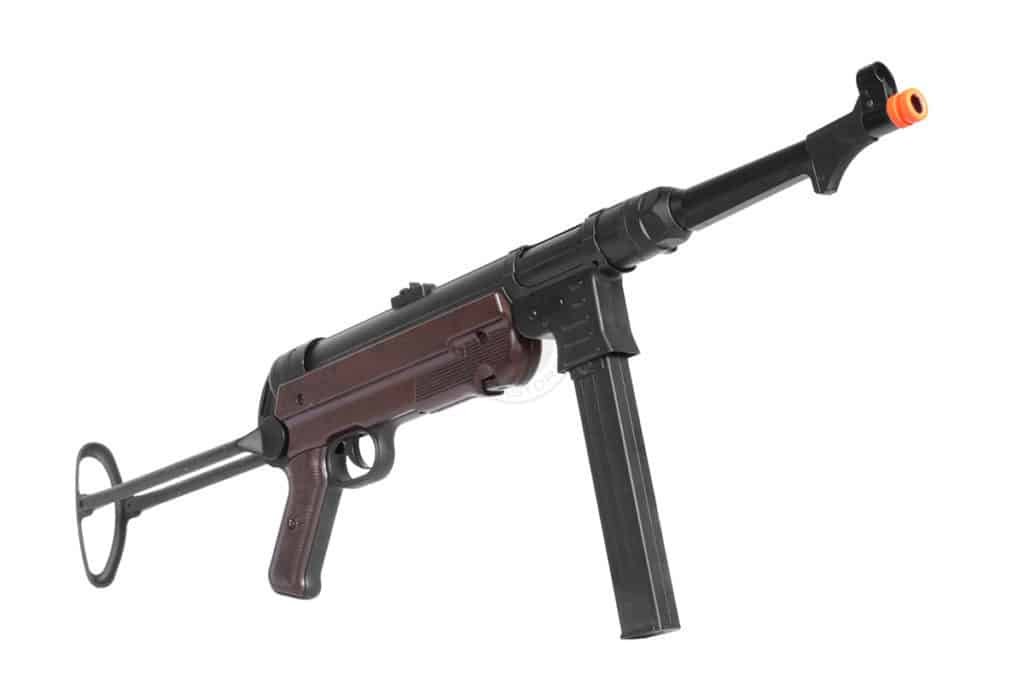 The build is incredibly solid and has a majestic metal finish with a handle that is so easy to grip.
The design comes in a full and semi automatic build which makes firing the 52 round cartridges an absolute breeze, giving you one of the biggest advantages in the game.
It contains a two 12 gram CO2cartridge setup allowing for a longer duration of firing when in a heated battle.
This model and also have a modern hop up installed to provide a better range of accuracy while reducing the kick back when firing.
Pros & Cons
Pros
One of the fastest firing in the game
Very solid build
Hold two CO2 cartridges
Amazing long distance range
Built in eye scope
Cons
Would be nice if they make a wooden handle instead of plastic
Looking for a pistol that not only provides extreme comfort when using, but has a beautiful wood grain handle for a more authentic feel?
The WE712 is about as old school as they come.
This pistol almost doubles as a rifle as the handle setup allows you to get great focus and accuracy even when you're kneeling down or running.
With its single shot or fully automatic options, it can be used to hit that one opponent that"s been getting away from you, or target multiple opponents which will give you an enormous advantage.
This model also have an incredible realistic blow back action that gives your BB's or pellets far more accuracy and enables you to hit your targets perfectly.
I personally have been using this for years now and all I can say is that it is one of the funnest products to use due to its easy carry load and extreme accuracy.
Pros & Cons
Pros
Very authentic look and feel
Under arm handle makes holding it very comfortable
Wooden handle, not plastic
Can fire multiple rounds or used as single shot
Can hold a large BB clip
Cons
More used for close combat, long range can get a bit tricky
This is one of the more classic looking rifles that you can pick up, and what can we say about this one, but wow.
This is with out a doubt one of the more well built rifles on the market, and it shows.
With steel gears and a full metal reinforces gearbox, this beauty will provide you with all of the firepower you will need in your next game.
This is such a beautiful replica and every time I use it it feels just like the real deal.
With a fire rate of 350-400 fps you will be able to hit your targets with ease and have an accuracy range that other guns just cannot compete with.
This comes built in with an adjustable hop up shooting system making it far easier to directly hit your target without the BB floating in a different direction accidentally.
This is one of the most authentic ww2 replica airsoft guns you will find and will really make you stand out from the crowd.
Pros & Cons
Pros
Beautiful design
One of the most authentic replicas on the market
Made from wood and strong tempered steel
350-400 fps
Extremely large BB caliper
Cons
Can be a little on the pricey side depending on which model
If you're looking for a cheaper alternative that does the job and can provide the fun and accuracy levels of a high end gun, then this is it.
While this replica weapon may be entirely plastic, it is anything but cheap.
It has a sturdy build that can withstand even the toughest conditions.
This is a spring loaded option and will require you to cock it for every single shot.
That may be a big no for most people but the accuracy on this thing is incredible. I was able to hit my target almost every single time without fuss.
This is a great entry point into WW2 airsoft and for the price and quality, you are getting an absolute bargain.
Pros & Cons
Pros
Extremely sturdy build
Can hold a large number of BB's
An absolute bargain for the quality
Cons
The spring loaded design may put some people off
For those of the sub machine gun lovers, this little beauty is something that needs to be in your collection.
Iv'e personally used this a handful of times after buying one, and I can say that its one of the funnest weapons to use during a match.
It has an excellent fps setup and I was able to shoot 200+ feet without any issues at all.
This is a battery powered electric setup and usually only takes around an hour to fully charge up, which is great if you have backup batteries as you can charge them while playing.
The solid metal build of this one is something of beauty. It has a fantastic matte black finish and will provide you with one of the biggest advantages over other ww2 replica weapons.
Id personally recommend using .20g bbs as that seems to get the best distance when firing.
Overall this is an exceptional choice if you want a huge semi automatic advantage when playing and will ensure that you rarely run out of ammo mid match.
Pros & Cons
Pros
Semi automatic setup
Can hold a large number of BB's
Beautiful matte black finish
Can shoot well over 200 feet
Cons
Could house a larger battery for longer firing duration