Airsoft is considered to be one of the best military simulation games that exists today.
That is why the number of participants is growing on a daily basis. However, before you engage in this type of sport it is important to ensure that you have safety gear so that you do not end up getting serious injuries.
One of the safety gears that most participants emphasize on is the helmet.
That is because helmets protect participants from brain and neck injury.
Why You Should Get A Full Face Airsoft Helmet
Most airsoft helmets are made of plastic.
That is because plastic is not heavy and provides great protection against airsoft projectiles.
Another reason why you should consider buying an airsoft helmet made of plastic is that it is very comfortable and very easy to maintain.
Furthermore, solid plastic helmets are available in a variety of different styles are colors.
They can even be designed in a more futuristic manner, and even to represent certain points in history.
Besides plastic, there are also steel mesh airsoft helmets that are designed to serve the same purpose.
However, the only problem this specific type of helmet is that the small fragments come out of the material when the impact is too strong.
That also means that plastic helmets are more durable than steel mesh helmets.

Benefits Of Airsoft Helmets.
Helmets are very important to those who play airsoft.
Even though experienced players risk playing the game without having their helmets on, such attempts can lead to serious injuries.
However, if you care about your safety, it is important that you wear a helmet to protect your head and neck.
Moreover, a full face airsoft helmet does not only protect your head and neck but your eyes as well, and when combined with the right vests, camo gear and tactical load out, you're going to have the ultimate protection from any stray shots.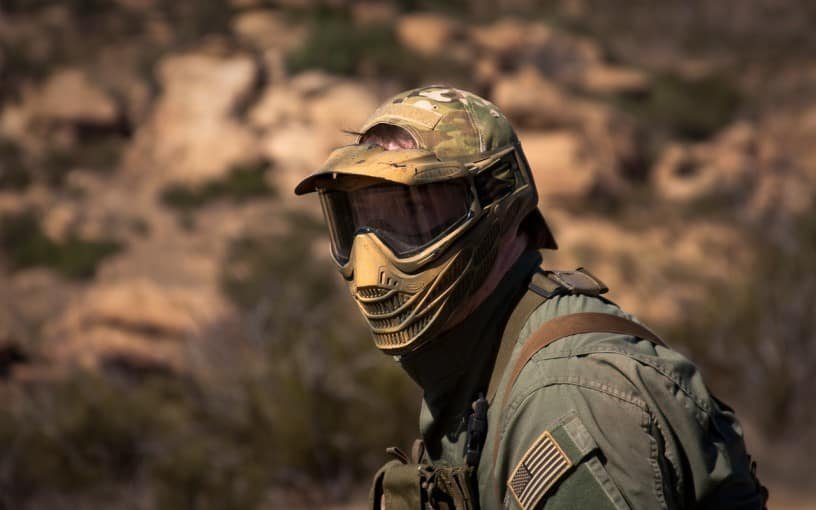 Quality helmets that are designed with built in goggles will always set may cost more, but they provide extra protection to players.
Especially when playing the game in a dusty environment.
It becomes easy for you to see clearly since the goggles act as a shield that protect your eyes from any dust and debris.
Things To Consider When Buying An Airsoft Helmet.
There are various brands in the market that specialize in manufacturing airsoft helmets, but not all of them deliver quality products.
That is why it is important that you take time to shop for the right helmet.
However, to help you save time and choose the best brand for your sport, here are key factors that you should consider when choosing an airsoft helmet.
Size.
Airsoft helmets come in different sizes.
Therefore, it is advisable that you find a helmet that will fit you perfectly.
The helmet you choose should be tight enough so that it does not easily move around when making tactical moves.

However, make sure that it has enough space for breathing and air circulation to prevent sweating.
Fastening
Besides being tight, the helmet you choose to buy should also have strap or buckles to help hold the helmet in place.
Some airsoft helmets are designed with adjustable straps, which make it easy for players to tight or loosen the helmet when necessary.
Other helmets do not have such features, which makes them unreliable for protection since they can easily come out.
Face Armor.
A full face helmet should also cover your face as well.
That means when choosing a helmet, it is advisable that you settle for a two face style helmet.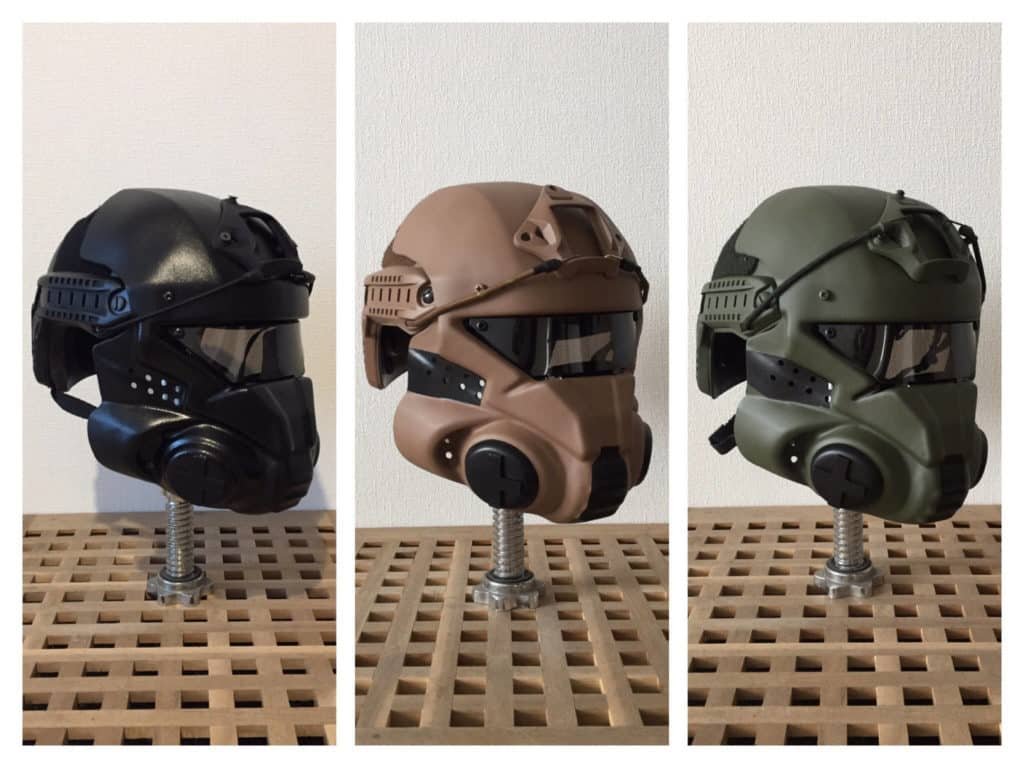 A two-face style airsoft helmet comes with a face armor, which can be closed or opened by the player when aiming.
These type of helmets are recommended for airsoft enthusiasts since you can play the game without having to worry about pellets hitting your face.
Style.
The majority of helmets on the market are available in drab green and basic black.
However, you can customize your helmet and make it look more stylish by adding stickers and even team decals if necessary.
Moreover, you can also paint the helmet using any color you want, but do not use a shouting color since it will be easy for you to get noticed by other players once you get to the battlefield.
Price.
Airsoft helmets are sold at different prices, depending on the brand and the features of the product.
However, that does not mean that you spend a fortune on an airsoft helmet. There are a number of brands that offer quality helmets at an affordable cost.

One of the best protective helmets that I have personally used is the WoSport Piloteer.
This hybrid design airsoft helmet does not only provide face protection to players but maximum comfort as well.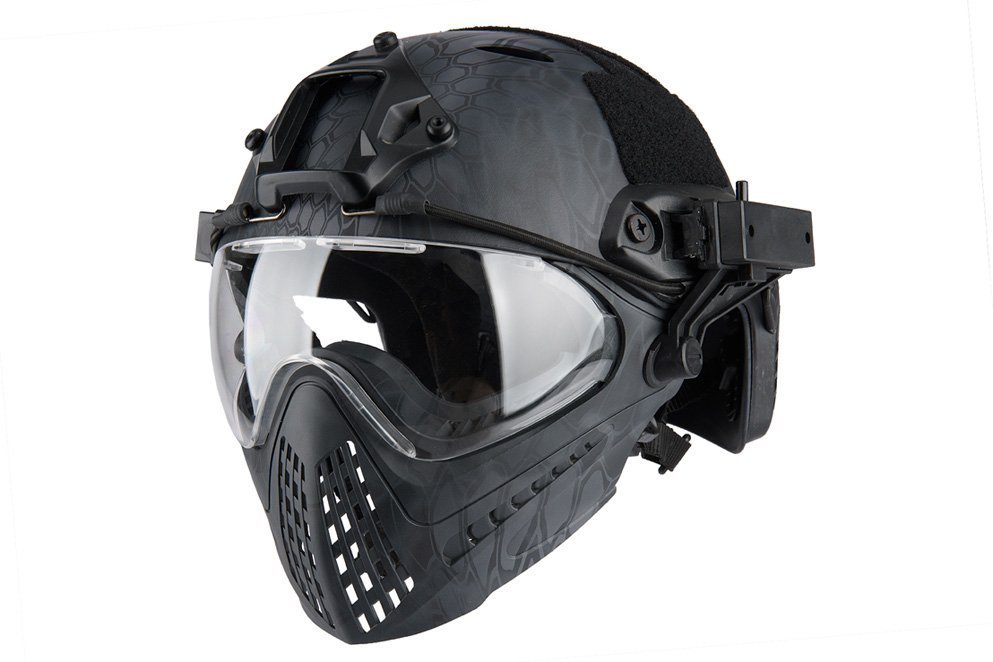 The helmet is designed with built-in air vents for better air circulation and a mouth guard, to protect your jaw and teeth.
This is without a doubt one of the most comfortable build I have ever experienced. From the firm foam on the inner side to the straps that fit perfectly under your chin.
The build in eye protection is one of the best features as it is made from a thick plastic that is very clear and visible and also provides an anti fog coating for when playing during the colder months.
Pros & Cons
Pros
High quality build
Mouth Vents & anti fog lenses
One of the most comfortable fits
Very affordable
Extremely customizable with ad-dons
The overall build of the entire design is solid and you cant even feel anything when a stray projectile hits you in the head region.
If you're looking for a helmet that not only provides amazing protection, but is so comfortable you almost forget that you're wearing it, then this is the design that we would recommend and hundred times over.